Dr Samia Raheel Qazi is elected four times in this voting in a row in 2015,2016,2017,2018 and nominated 5th time in 2019 . Kindly vote Samia Raheel Qazi in politics by clicking following button
⦁ Chairperson Council of Trustees International Muslim Women Union IMWU, an NGO with ECOSOC status in United Nations.
⦁ Member of the National Commission for Human Development (NCHD).
⦁ Member Board of Directors Ghazali Education Trust.
⦁ Member Dawah Advisory Council International Islamic University Islamabad.
⦁ Trustee, Women Aid Trust, WAT is a non Governmental organization (NGO striving for women's uplift besides providing legal aid to the imprisoned Women.
⦁ Member of the Board of Trustees International Muslim Women Union (IMWU).
⦁ International Ambassador AL- Khidmat Foundation Pakistan.
⦁ Member of the board of Trustees "KHAWATEEN TRUST" which provides Micro credit Schemes for Women.
⦁ Trustee of Global Association of Muslim Women.
⦁ Director Foreign Affairs (Jamaat – e- Islami Women Wing).
⦁ Member of MMA Women Wing.
From the very early days of my life, my parents arranged a tutor at home, who used to teach me Quran as well as Arabic, Persian   and English. Contrary to other girls of my age, who were fond of playing with dolls, I got an environment where piles of books were the sights to be seen and discussions of ideas and movements were the sounds to be heard.
Knowledge and enriched social values were something I inherited before I could inherit anything else from my parents. Right from very beginning of my formal schooling, I , being raised in a family  having had great respect for freedom of expression and self-actualization, was fond of putting my opinion on issues of social and political concerns, ultimately helped me  excel my potential as an orator.
I started my early education from  North West Frontier Province (KPK)  and I was lucky to get enrolled for education in three of the four  provinces, which gave me an opportunity to understand other regional cultures and languages  and  look at the issues in their context. Students politics is the nursery of building future political leadership of any state. I was lucky to be an alumni and Secretary General of the Students Union of Lahore College University, a famous Asian institute for women education.  
I got bachelor degree (graduation) from Punjab university, one of the oldest university of Indian subcontinent, while completed my post-graduation studies (Master) from Baluchistan University with colors.  I started my doctorate from Brigham Young University, a private research university in Provo, Utah, United States and obtained PhD from Punjab University, focusing my research study on Family System in Islam & Contemporary Challenges. I completed National Security course from the renowned military university of Pakistan, National Defence University Islamabad.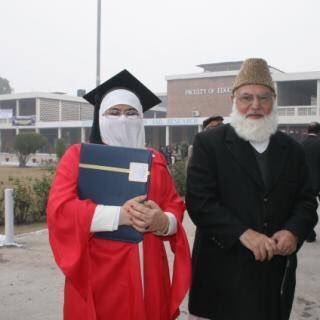 I opened my eyes in a family, which was known as the family of scholars and preachers, a family which had been the custodian of bright and proud values. My grand-grandfather SheikhAkhun U Din  was a Seljuq Turk, a proud link we are cherishing since ottoman empire. We heard some real stories from our elders about the ladies of our house, who donated their ornaments as a token of contribution to the movement for protection of Khilafah, initiated by the Muslims of subcontinent, now India and Pakistan.  
I started my life career right after my graduation and married a medical doctor, who had been my husband as well as mentor. His support, guidance and high sense of responsibility towards his family and society  helped me in the initial phase of my career to nourish my passion as a wife, mother,  social work  and political activist. Subsequently, down the road of life, Allah blessed us with two children, Muhammad Ibrahim Qazi and Reham Jamil Qazi, now both married and happy in  their lives. Alhamdulillah.
I believe in FAMILY FIRST BRING HEART HOME, therefore , I spend most of  my free time with my family, which is consisting of  my daughter and son and three of my grandchildren, cooking variety of Asian and continental foods as a hobby.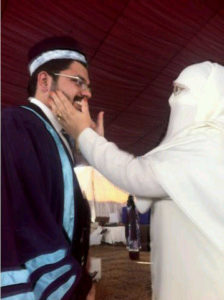 In 2002 I was chosen to be a member of parliament in the national assembly, representing Jamaat e Islami Pakistan.  During five years of tenure as a member of parliament, I was honored to be rewarded as the best legislator  for my contribution and performance in the parliamentary business. I was the member of many Parliamentary Committee Youth,Cabinet Secretariat and Media committees.
Being socially and politically Women and Family rights activist, I am regularly engaged by local and international media channels for panel discussions and interviews on issues of public interest. 
As stated before, I have a passion for writing and been contributing to various newspapers and magazines on regular basis. Around 12 of my books have so far published and being member of Women and Family Commission JI Pakistan, I have been proactively voicing for the cause of women in Pakistan at various forums as a women rights activist. In addition to membership of Women and Family Commission, I have been actively involved in various forums of the party like JI Media , Social services NGO Al-khidmat, Public Affairs, foreign Affairs. "QAWAREER", a platform for uniting women entrepreneur, regular fashion shows around the globe and consultative service
In 1995 Beijing Conference held under the auspicious of United Nations, which was the biggest ever summit of women in the world for gender issues. Unfortunately Muslim women did not have an effective voice to be heard at that time.  At that critical juncture, under the guidance of Late Necmettin Erbakan ,Late Dr. Hasan Turabi  and my late father Qazi Hussain Ahmad , the leadership of Muslim women organizations  sat together  and founded International Muslim Women Union (IMWU). I was the founding member of that organization. Currently, I am honored to be the president of counsel of  its trustees.  This organization has been on the UN ECO-SOC status, which has helped me to participate in various conferences held under the auspicious of UN. 
I have been participating in  special conferences held in New York, each year, at  the eve of International women Day.  Through the platform of IMWU, I have visited various countries around the globe , where I was able to attend two conferences in Istanbul last year.  ​
In 2005, I was included in the list of WOMEN OF THE YEAR published by prominent Pakistani media group. In 2015 and 2016 , my name was included in 50 powerful women of Pakistan, while for 2017 I have again been nominated.
I have been working as a youth trainer, where thousands of young girls have been engaged for counseling sessions and training on issues pertinent to dynamics of life, marriage, child rearing and family education, where using   role models and case studies,  they are prepared to play active and positive role  to shoulder the  responsibilities  and meet the expectations of their parents and society. 
I was the member of school debating club and actively participated in curricular activities.  Due to my passion for sports and physical fitness, I had been chosen as annual parade commander to lead the scouts parade in one of our provincial sports festivals and awarded for leading from the front.
International Women Leadership Award in Malaysia